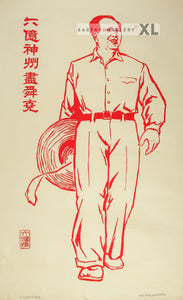 Six hundred million in this land all equal Yao and Shun
Regular price £220.00 Sale
Artist: Central Academy of Fine Arts Rebel Group Printmaking Group

Year: ca.1968

Publisher: N/A

Size (mm): 585x935
Condition: excellent, creasing

*Please note this is an XL poster, see dimensions above*
Original silkscreen print by a student 'rebel' group from the prestigious Central Academy of Fine Arts during the early Cultural Revolution. The title is a line from a 1958 poem by Mao Zedong, 'Farewell to the God of Plague', written after Mao received news of success in the famous public health campaign against the parasitic worm disease schistosomiasis.
The title line coveys an idea from Mencius that all mortal people have the opportunity to become like Yao and Shun - two ancient emperors of China and models of benevolent rule and piety - the intention being to recognise the power of the ordinary person in shaping history.
Hand-signed in pencil on lower margin: poster title in lower-left corner, artists' group lower-right.