New in the gallery - XL posters
XL posters are around twice the size of standard Chinese posters and make a much greater impact when displayed on a wall. They're also harder to get hold of for collectors as fewer remain in good condition. General dimensions are 764x1064mm (D0 specification), although we list the exact size of each poster individually. We will be adding many more soon.
view xl posters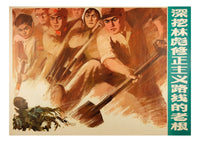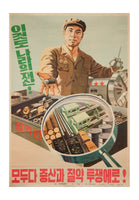 Genuine vintage printed North Korean posters
Although eastredgallery specialises in Chinese posters, when we're sourcing our products we do occasionally come across some very rare examples of printed North Korean posters. These are genuine vintage propaganda posters, produced for domestic display within North Korea.
Hand-painted North Korean posters found more commonly for sale outside of the country are generally contemporary and created specifically for export as a valuable means of foreign revenue. The period printed posters are extremely rare, intended to directly influence North Korean citizens rather than to satisfy a foreign audience. We're happy to be able to offer several fascinating examples for sale in our store right now. If you're interested in owning something really unique keep an eye on this section of the website.
view north korean posters