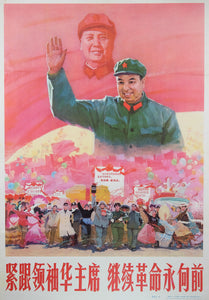 Closely follow leader Chairman Hua, continue the revolution and forever forge ahead
Regular price £350.00 Sale
Artist: Pan Hengsheng

Year: 1977

Publisher: Heilongjiang People's Publishing House

Size (mm): 530x760
Condition: very good, folded as issued

The banner in the centre of the crowd reads:
Mao Zhuxi gei Hua Guofeng tongzhi qinbi xie de zhishi: ni banshi, wo fangxin. (The directive written for comrade Hua Guofeng in Chairman Mao's own hand: With you in charge, I am at ease.)
During a meeting in April 1976 Mao wrote three notes to Hua Guofeng, who he had chosen to succeed him: Manman lai, buyao zhaoji (Take it easy, don't worry), Zhao guoqu fangzhen ban (Follow the guiding principles of the past), and Ni banshi, wo fangxin (With you in charge, I am at ease). Mao had held the title 'great leader'; Hua became known as the 'wise leader' - a term coined in an editorial by the Liberation Army Daily - following his arrest of the Gang of Four in October 1976.