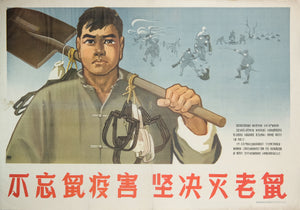 Remember bubonic plague, resolutely exterminate rats
Artist: unknown

Year: 1964
Publisher: Jilin Province Plague Prevention Institute

Size (mm): 535x772
Condition: Good, creases and small tears, originally folded, extensive repairs on rear to fold lines and margins

Text on image reads:
Plague is a type of epidemic infectious disease spread by rats and causing serious harm to people. But among communities in epidemic stricken areas, plague spread everywhere and the reactionary ruling class not only did not care whether the people lived or died, but actually took more advantage to the extent of burying sick people alive and burning down houses, causing a natural and man-made calamity with families broken up and killed.
Today, under the wise leadership of the Communist Party and Chairman Mao, a vigorous program of epidemic prevention has been launched, plague has been brought under control and the life and health of the people has been safeguarded. But we must recall sorrows of the past, savour joys of the present and continue to exert great efforts to completely eradicate rats and plague, with the aim of successfully constructing socialism.
The background of the image depicts scenes of Japanese soldiers burning houses and killing and burying people, suggesting an analogy between the practice of exterminating rats and wiping out the reactionary ruling class of the invading Japanese in China's recent past.