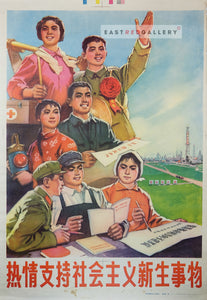 Enthusiastically support the new things in socialism
Artist: Dong Lucheng (Jinan Railway Bureau Workers' Cultural Centre)

Year: 1976

Publisher: Shandong People's Fine Art Publishing House

Size (mm): 540x780
Condition: very good, creases and small tears to margins
The 'New things in socialism' were supposedly newly emerging phenomena that could be attributed to the Cultural Revolution. They included:
The mass movement to study Marxism-Leninism and Mao Zedong Thought
The birth of the Revolutionary Committees
Strengthening central Party leadership

The creation of the revolutionary cultural works such as the eight model plays
The educational revolution
The sending down of educated youth to the countryside
Barefoot doctors and medical cooperatives in rural China
Study of class struggle and the Confucianism vs Legalism struggle
The Three-in-One Combination - a leading body composed of the old, middle-aged and young in various institutions.
The figures in the poster represent the apparent achievements of these new things, most obviously with the barefoot doctor at top-left, and the character beneath her representing the Legend of the Red Lantern model play. The character at bottom-right has written jiaoyu geming de fangxiang burong cuangai (the situation of the revolution in education cannot be distorted). Character in blue at centre holds paper with the words 'wuqi' zhishi fang guangmang (the 'May 7 Directive' is gleaming). The 'May 7 Directive' referred to a letter Mao Zedong wrote to Lin Biao in May 1966, where he proposed a comprehensive plan for turning China into 'a great school of Mao Zedong Thought'. His idealised model imagined a self-sufficient society with class struggle as a core tenet, weakening the power of the bourgeoisie and strengthening the proletariat. 

There was a revolutionary song of the period about the new things in socialism, see link for audio: