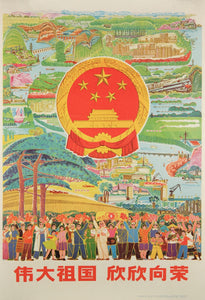 Our great motherland is flourishing
Artist: Xu Changming and Ren Meijun
Year: 1975
Publisher: Shanghai People's Publishing House
Size (mm): 525x767
Condition: Very good, some creasing to margins, small losses to lower margin
By the early 1970s the worst excesses of the Cultural Revolution had ended and life was gradually returning to some semblance of normality. With the previously declared successor of Mao and head of the People's Liberation Army, Lin Biao, having been killed in a plane crash while fleeing China after a supposed coup attempt, Deng Xiaoping was brought back into politics - carefully treading around Mao's ideology while introducing reformist measures to rebuild the economy. 
Many posters were produced around this period that presented the utopian version of life in rural China. Amateur artists composed of elements from the worker and peasant groups of society were involved to a large extent in the creation of posters, with the most well-known group being the Huxian peasant painters from Shaanxi province. Handbooks were published instructing on artistic techniques and providing examples of how to portray various figures and types, but despite the inference of the creative abilities of the proletariat, professional artists were often also involved. 
This poster is produced in the naive, folk art-influenced style reminiscent of many others from the period with a large group of people representing the diverse ethnic groups of China, waving the red flowers symbolic of success, and holding aloft sheaves of abundant grain harvests. A performer holds a red lantern probably in allusion to the eight model plays, a scientist the atomic symbol, and workers hold various tools of their trade. The background depicts a highly detailed and stylised view of the successes achieved by the country in both rural and industrial sectors. The representations of agriculture include terraced fields, mechanised labour, irrigation, dams, aqueducts and crop spraying; while industrial and urban advancements are shown with mining, factories, railroads, bridges, and towns and cities. Winding through the whole scene is the river vital to commerce and irrigation of the countryside. The signage in the fields reads renmin gongshe hao (the people's communes are good) and nongye xue dazhai (in agriculture learn from Dazhai); on the industrial complex at the top zili gengsheng (reconstruction through one's own efforts) and duli zizhu (maintain independence and hold the initiative). The modern building in the foreground is hosting the Zhongguo chukou shangpin jiaoyihui (China export commodities fair) founded in 1957 in Guangzhou, showcasing the country's foreign trade.