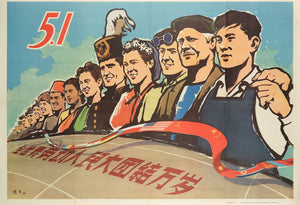 Long live the great unity of the workers of the world
Artist: Ha Qiongwen
Year: 1957
Publisher: Shanghai People's Fine Art Publishing House
Size (mm): 527x770
Condition: Very good, folded as issued, small tears to margins, minor wear along fold lines, pencil marking on front
'Workers of the world, unite!' was the most famous rallying cry of Marx and Engels' 1948 Communist Manifesto, and exhorted the working classes of the world to come together to be victorious in class conflict. The 5.1 at the top of the poster refers to Wuyi Laodongjie (1 May Labour Day or International Workers' Day), a celebration of labourers and working classes that is held in many countries around the world. Originally chosen by by socialist and communist political parties to commemorate the Haymarket Affair of 1886 in Chicago, it calls for workers of all countries to demonstrate for the legal eight-hour day, universal peace, and the class demands of the proletariat.
China's first professional propaganda poster team was assembled in 1954 at the East China People's Art Publishing House in Shanghai. The team comprised commercial artists from pre-1949 advertising agencies and design studios, and art school graduates of the forties and fifties, and became the most productive of the propaganda poster teams - issuing over forty million posters between 1954 and 1966. At the peak of propaganda poster production a new poster could be designed, painted and produced in as little as ten hours, meaning that every new party policy could be fed down and disseminated to the public almost instantly. 
Ha Qiongwen (1925-2012) was the most famous of the Shanghai propaganda artists. Born in Beijing, he studied oil painting at the National Central University and joined the People's Liberation Army after his graduation in 1949, where he taught art at the East China Military and Political Academy. In 1955 he started work at the Shanghai People's Fine Art Publishing House where he became one of the best known and most prolific artists, with over ten million copies of his designs published during his 37-year career. In 1961 Ha designed one of China's most successful propaganda posters, Long live Chairman Mao, which was displayed all over the country in public buildings and spaces. It depicted a pretty woman in traditional dress holding a child, amid pink blossoms. Later, during the Cultural Revolution, the absence of Chairman Mao and the supposedly bourgeois clothing of the woman would cause the artist many problems, resulting in multiple struggle sessions and public beatings.