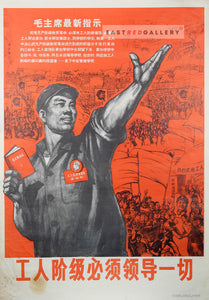 The working classes must lead everything
Regular price $452.00 Sale
Artist: unknown

Year: 1968

Publisher: Sichuan East is Red Publishing House

Size (mm): 535x770
Condition: very good, stains, creases and tears repaired to rear to bottom left corner
Text at top reads:
Chairman Mao's latest directive

To realise the proletarian educational revolution, there must be the leadership of the working class and the participation of the masses of workers; cooperation with PLA soldiers and the students, teachers and workers of the school who are determined to carry the proletarian educational revolution through to the end. The workers' propaganda team must stay in the school for a long period, participate in all the school's struggle-criticism-transformation tasks, and lead the school forever. In the countryside, schools should be managed by the most reliable ally of the working class --- the poor and lower middle peasants.
The main figure wears a badge that denotes him as a member of the workers' Mao Zedong Thought propaganda team.