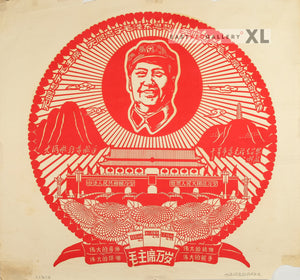 Long live Chairman Mao
Regular price $284.00 Sale
Artist: Central Academy of Fine Arts Rebel Group Printmaking Group

Year: ca.1968

Publisher: N/A

Size (mm): 785x725

Condition: good, loss to lower-right corner, losses to top margin, creases, stains, tears repaired on rear

*Please note this is an XL poster, see dimensions above*
Original silkscreen print by a student 'rebel' group from the prestigious Central Academy of Fine Arts during the early Cultural Revolution. The text running around top of circle reads Wuxian zhongyu Mao Zhuxi, wuxian zhongyu Mao Zedong Sixiang, wuxian zhongyu Mao Zhuxi de geming luxian (Unlimited loyalty to Chairman Mao, unlimited loyalty to Mao Zedong Thought, unlimited loyalty to Chairman Mao's revolutionary line).
At bottom-left and -right, either side of poster title in bottom-centre, are the words Weida de daoshi; weida de lingxiu; weida de tongshuai; weida de duoshou (The great teacher; the great leader; the great commander; the great helmsman). The three pamphlets above the poster title are the Laosanpian (Three old articles), political essays written by Mao before 1949 titled In Memory of Dr Norman Bethune, Serve the People, and The Foolish Old Man Who Moved the Mountain. These works were regarded as containing essential concepts of Mao Zedong Thought and were learned by rote by all.

On the hill on right side of the image is the famous Tang Dynasty pagoda of Yan'an, endpoint of the Long March and centre of the communist revolution in the 1930s and 1940s.
Hand-signed in pencil on lower margin: poster title in lower-left corner, artists' group lower-right.