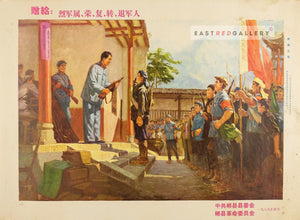 Armed workers and peasants
Regular price $214.00 Sale
Artist: unknown

Year: Spring Festival 1979
Publisher:  Chen County Committee of the CPC; Chen County Revolutionary Committee

Size (mm): 380x520 *please note small format*

Condition: very good, creases, stains

Text above image: Gifted to: the martyrs and bereaved, the honoured, the ex-servicemen, the transferred, the retired.
Text right-hand side: In March 1928, the great leader Chairman Mao personally presented arms to the guerillas from the Hunan and Jiangxi areas at the Wanshou Palace in Shatian, Guidong.

Likely referring to the Autumn Harvest Uprising, an armed insurrection led by Mao Zedong in Hunan and Jiangxi in 1927, which although eventually quelled by the Kuomintang, briefly established a Soviet government. Commemorative poster produced by the small city of Chenzhou in south Hunan. Rare.