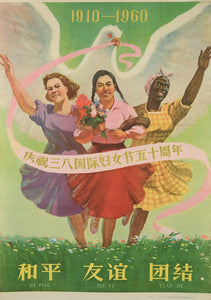 Peace, Friendship, Unity
Regular price $510.00 Sale
Artist: Chen Guanzhen
Year: 1960
Publisher: Shanghai People's Fine Art Publishing House
Size (mm): 536x765
Condition: Very good, fold to centre, creasing and small tears to margins, delicate paper
The ribbon in centre reads qingzhu san ba guoji funvjie wushi zhounian (celebrate 50 years of International Women's Day)
The first Women's Day was observed on 8 February 1909 in New York and organised by the Socialist Party of America. The following year socialist groups in Copenhagen held an International Women's Conference, where it was proposed that 8 March be designated as International Women's Day throughout the world - with an estimated one million people attending in various countries in 1911. On 8 March 1917, women in Petrograd went on strike demanding peace and an end to the First World War, the dismantling of the Tsarist regime and the allocation of more food, leading to the beginnings of the Russian Revolution. Calling for gender equality, the right for women to vote and hold public office, while celebrating women's achievements, International Women's Day was adopted by the Chinese Communist Party as early as 1922. Shortly after the founding of the People's Republic in 1949, the government declared that 8 March was to be an official holiday with a half-day off for all women.
China had had close ties during the 1950s mainly with the Soviet Union and the socialist countries of Eastern Europe but by 1960, against the backdrop of the Sino-Soviet Split, was keen to build relationships and alliances with other countries. Seeing parities between its own treatment at the hands of imperial powers and the injustices faced by many African peoples, China began to receive state leaders and delegates from various African nations. Propaganda posters from this period began to include African people among other nationalities, in an attempt to boost the perception of China as a leading example in the fight against oppression. During the sixties and seventies many movements for social and political change in the West used Chinese propaganda posters - particularly those depicting oppressed people from other foreign nations - as symbols of their struggle. The propaganda posters that can still be found bearing slogans in English were produced for these purposes and sent overseas sometimes in great numbers.
This poster shows three women, with the likely intention of representing Russian, Chinese, and an African nationality, arm-in-arm dancing to celebrate the 50th anniversary of International Women's Day. The white dove of peace in the background reinforces the slogan of 'peace, friendship, unity'.