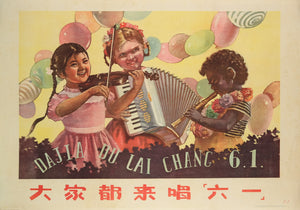 Everyone come and sing about Children's Day
Regular price $452.00 Sale
Artist: Zhao Jingdong
Year: 1962
Publisher: Hebei People's Fine Art Publishing House
Size (mm): 535x765
Condition: Very good, creasing to margin, 2.5cm tear in centre - not visible
Liuyi Guoji Ertongjie (June 1 International Children's Day) is the day on which China celebrates International Children's Day, which is recognised on different days around the world. After the founding of the People's Republic in 1949 a half-day holiday was granted to all primary schools, increased in 1956 to a full day. Fun activities and events are often arranged. 
Children's Day posters often emphasised the international aspect of the celebration; in this poster we could assume that the intention is to depict children of Chinese, European and African origin playing their instruments together.
Interestingly, the pinyin (system of romanisation of the Chinese language developed in the 1950s) is incorrect for the third character of the slogan.