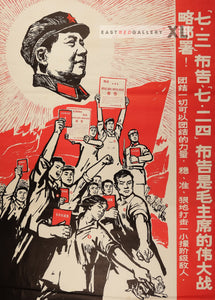 The July 3rd and July 24th Proclamations are Chairman Mao's great strategic plan!
Regular price $1,310.00 Sale
Artist: unknown

Year: 1968

Publisher: Tianjin People's Fine Art Publishing House

Size (mm): 755x1055

Condition: very good, light vertical fold marks, fraying to right margin

*Please note this is an XL poster, see dimensions above*
The poster subtitle is Tuanjie yiqie keyi tuanjie de liliang, wen, zhun, hen de daji yixiaocuo jieji diren (Unite all forces that can be united, strike the small group of class enemies steadily, accurately and ruthlessly).

The original July 3rd Proclamation was announced by the CCP Central Committee, State Council, Central Military Commission and Cultural Revolution Small Group and approved by Chairman Mao. It concerned the escalating factional violence in Guangxi Province, where groups had broken into PLA warehouses to steal weapons and seized military supplies headed for Vietnam.
The July 24th Proclamation reiterated the earlier notice, and was focused on the mass breakout of violence in Shaanxi. This second announcement marks the moment that Mao and the leadership decided to put an end to the nationwide destruction caused by the Cultural Revolution. The order was to cease armed struggle, return weapons and goods to the army, desist from interrupting transportation, and stated that the 'small group of class enemies' would be severely punished by the law.