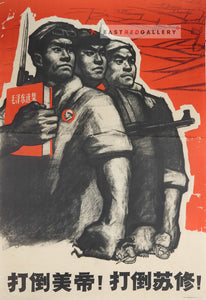 Down with American Imperialism! Down with Soviet Revisionism!
Regular price $996.00 Sale
Artist: unknown

Year: 1969

Publisher: Hubei People's Publishing House

Size (mm): 760x520

Condition: very good, folded centre, pinholes, creases and small tears to margins
The trinity of worker, peasant, soldier; the worker figure on left-hand side holding a copy of the Selected Works of Mao Zedong, smashing what appears to be caricatures of the US army and Richard Nixon against the sea of red flags in background.
Mao and the Chinese leadership had become increasingly dissatisfied with what they viewed as the Soviet Union's divergence from the correct applications of Marxism-Leninism, particularly under Krushchev. This view - along with anti-imperialist slogans most often directed at America, is a common theme of posters produced during the height of the Cultural Revolution.