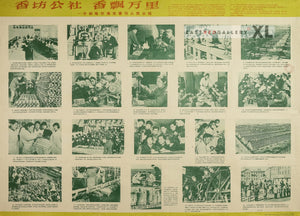 Xiangfang Commune
Regular price €230,95 Sale
Artist: Tong Deyin, Hu Wei, Tan Peiquan, Feng Qi

Year: 1960

Publisher: People's Fine Art Publishing House

Size (mm): 755x1050

Condition: very good, light folds, creases, small holes, low-quality paper stock

*Please note this is an XL poster, see dimensions above*
Subtitle: Introducing Harbin City Xiangfang People's Commune. Text at top-right: Harbin Xiangfang People's Commune is an urban people's commune organised around the state-run large enterprise Harbin Bearing Factory. It was born in the climax of the Great Leap Forward in production in August 1958. Over the past year, this commune has organised all aspects of the district, from production to life, including large and small factories, factories and streets, workers and residents, industry and agriculture; thousands of workers' families and neighbourhood women have taken up production jobs. Now the commune has gradually formed a production collaboration network, a people's economic life network, a cultural and educational network, and a science and technology network throughout the commune. As a result of the commune's organisation of production, collaboration within the commune and the Party's efforts to protect the priorities of the whole population, there has been a full and great leap forward in production. The total output value of industry in 1959 was 62% higher than that in 1958; agricultural production in the suburbs has also developed greatly.

As a result of the collective production and the exercise of collective life, there has been a remarkable change in the mental outlook of the community members, and a new social trend of everyone working, caring for each other, loving the community and having harmony with neighbours has emerged in the whole community.

"Chairman Mao built a platform of happiness, the working people stepped up, we have mountains, we have water, we have rock, and the poverty and hardship never came again." This is the song of the masses to the commune. Under the leadership of the Party and with the infinite love of its members, the Xiangfang People's Commune is advancing rapidly under the great superiority of the 'large in size and collective in nature' principle!