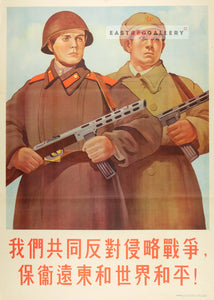 Together we oppose wars of aggression and defend the Far East and world peace!
Regular price €624,95 Sale
Artist: Liang Yulong

Year: 1952

Publisher: The People's Fine Art Publishing House

Size (mm): 520x725

Condition: very good, horizontal folds

In 1949 Mao first introduced the concept of 'leaning to one side', whereby all citizens must either embrace socialism or imperialism - there was no third road. Under Mao, China would lean to the side of socialism and ally with the Soviet Union. In 1950, during the Chinese leader's first visit to Moscow, Mao Zedong and Josef Stalin signed the Sino-Soviet Treaty of Friendship, Alliance and Mutual Assistance. In the following years over 40,000 scientists, engineers, technicians and military advisers were sent to China to assist with the socialist construction of the country. By 1960 the alliance had all but ended, although China did not formally end the treaty until 1979.