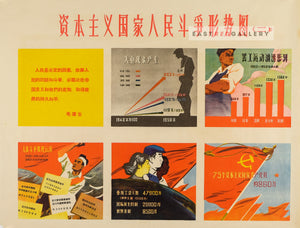 Picture chart of the people's struggle in capitalist countries
Regular price €214,95 Sale
Artist: unknown

Year: c.1961

Publisher: unknown

Size (mm): 380x495

Condition: very good, light creases

Contents of the image panes, left-right, top-bottom:
'The people are the decisive factor and by relying on the unity and struggle of the people we will be able to defeat the imperialists and their running dogs and achieve lasting peace in the world.' - Mao Zedong
'Severe unemployment' - showing rates from 1948-1958 in Japan, United States, Britain and France.
'Surging industrial action' - showing rates between 1953 and 1959 in Britain, Japan, France, Italy and the United States.
'The people's struggle is surging forwards - between 1958 and 1961, ten reactionary national governments were overthrown.'
Members of trade unions: 479 million; Women's International Democratic Federation members: 200 million; World Youth Federation members: 85 million.
Communist party members of 75 capitalist countries number around 8.6 million.