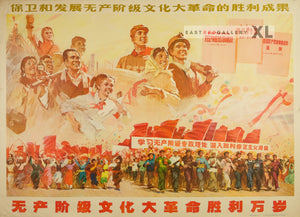 Long live the Great Proletarian Cultural Revolution
Regular price €739,95 Sale
Artist: Xinjin County Propaganda Poster Study Class

Year: 1976

Publisher: Liaoning People's Publishing House

Size (mm): 770x1055

Condition: very good, small tears to margins repaired on rear

*Please note this is an XL poster, see dimensions above*
Poster subtitle at top: Baowei he fazhan wuchanjiejie wenhuadageming de shengli chengguo (Protect and develop the victorious achievements of the Great Proletarian Cultural Revolution).

Banner in the crowd reads xuexi wuchanjieji zhuanzheng lilun; shenru pipan xiuzhengzhuyi luxian (Study the theory of the dictatorship of the proletariat; deeply crtiticise the revisionist line).
The three publications in the top-right of the image are: Guanyu wuchanjieji wenhuadageming de jueding (Decision on the Great Proletarian Cultural Revolution), Paoda silingbu (wode yi zhang dazibao) [Bombard the Headquarters (One of my big-character posters)], Zhongguo Gongchandang Zhongyang Weiyuanhui tongzhi (Notice of the Central Committee of the Communist Party of China).