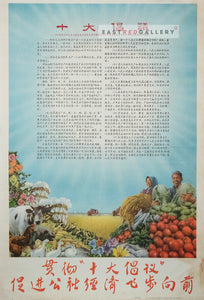 Implement 'The 10 major initiatives' to promote commune economy with flying speed
Regular price €230,95 Sale
Artist: Zhao Liqun

Year: 1959

Publisher: Shanghai People's Fine Art Publishing House

Size (mm): 525x770
Condition: very good, creases, staining to right margin, tears to edge repaired on rear
 A brief description of the 10 initiatives listed in the block of text:

1) Guarantee to complete the task of 1050 billion catties of grain output in 1959, and strive to exceed it.
2) Guarantee to complete the task of producing 100 million pallets of ginned cotton in 1959, and strive to exceed it.
3) Observe field management of wheat, rapeseed and other crops. Carry out winter repair water conservancy, water and soil conservation, deep soil improvement and the winter fertiliser accumulation campaign.
4) Conscientiously implement the eight-character constitution of water, fertiliser, soil, seed, density, protection, work, and management. All people's communes must cultivate high-yield fields.
5) Comprehensive development of agriculture, forestry, animal husbandry and sideline fishery, with output in 1959 to double that of 1958.
6) Simultaneous development of industry and agriculture with output to double that of 1958.
7) Implement self-sufficient production and commercial production at the same time.
8) Improve the lives of the people on the basis of developing production. Run public canteens, nurseries, kindergartens and nursing homes of the people's communes well. Ensure that the eight hours of sleep and four hours of rest for meals are implemented.
9) Strive for greater progress in science, culture, education, health and sports. Continue to carry out the literacy campaign. Vigorously carry out patriotic health campaigns.
10) Pay close attention to winter production in the last few months to rectify and consolidate the people's communes.