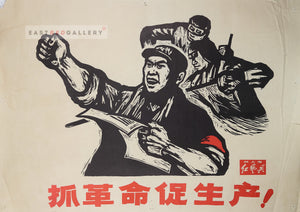 Grasp the revolution and promote production!
Regular price €413,95 Sale
Artist: unknown

Year: c.1968

Publisher: Fight for Shanghai Red Art Guards

Size (mm): 720x510

Condition: good, small loss to top-left corner, creasing to right-hand side and bottom-left corner - see image

Representative of early Cultural Revolution posters produced by the many zaofanpai (rebel groups). In 1939 Mao gave a speech in Yan'an where he proclaimed, "In the final analysis, the innumerable truths of Marxism may be expressed in one sentence: it is right to rebel".
The People's Daily republished this speech in 1966 - taken by the Red Guards as an absolute directive from Mao to justify their supposed revolutionary actions. The Rebel Red Guards distinguished themselves from the Veteran Red Guards by their struggle against capitalist-roaders - or those who wished to reinstate capitalism under the banner of communism. 

This poster has been produced by a rebel group calling themselves the 'Fight for Shanghai Red Art Guards'. In common with posters of this type there is no publishing information at bottom margin.