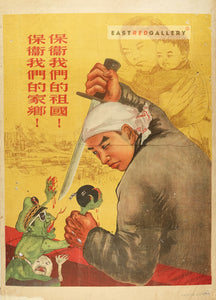 Defend our hometowns, defend our motherland!
Regular price €564,95 Sale
Artist: Bi Cheng

Year: 1951
Publisher: People's Fine Art Publishing House

Size (mm): 570x800
Condition: fair, creases, folds, small losses, repaired loss to lower margin, would benefit from backing/restoration

Classic poster from the early People's Republic where anti-American and anti-US imperialism themes were commonly depicted, and the Kang Mei yuan Chao (Resist US aggression and aid Korea) campaign to support North Korea in the Korean War was in full swing.
Due to the condition issues this poster is significantly reduced in price, although backing onto Japanese paper or linen, along with a small amount of infilling for the losses (see image) is certainly possible. See conservation section and please contact us on info@eastredgallery.com if you would like to discuss.