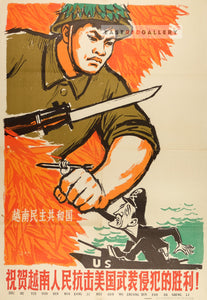 Congratulate the Vietnamese people on their victory in resisting US armed aggression!
Regular price €684,95 Sale
Artist: Shanghai People's Fine Art Publishing House Poster Team

Year: 1965
Publisher: Shanghai People's Fine Art Publishing House
Size (mm): 540x780
Condition: very good, folded as issued, creases

Text in the orange area reads Yuenan minzhu gongheguo (Democratic Republic of Vietnam).
Kang Mei yuan Yue (Resist US aggression and aid Vietnam) was the slogan for the campaign begun in the mid-1960s in support of the Vietnamese in their war with the United States. China sent vast quantities of money, material aid and manpower to Vietnam - helping with construction projects, air defence and and with troops in the fighting. In 1966, Liu Shaoqi declared in a statement that "Chinese people are prepared to make the greatest sacrifices to back Vietnamese people against the US imperialists . . . . Chinese people are ready at all times to take action deemed necessary by the people of China and Vietnam, and together they shall retaliate against the US aggressors."