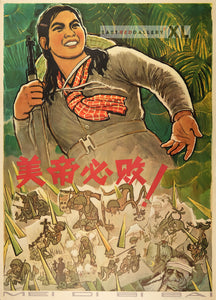 America must be defeated!
Regular price €893,95 Sale
Artist: Ha Qiongwen

Year: 1965

Publisher: Shanghai People's Fine Art Publishing House

Size (mm): 770x1065

Condition: very good, light vertical fold marks, small tears repaired to rear

*Please note this is an XL poster, see dimensions above*
Classic poster from one of the most celebrated Chinese propaganda poster artists, Ha Qiongwen. During the mid-1960s many posters were produced calling for America's defeat in the Vietnam war; the strong design and cartoonish depictions of hapless and cowardly US troops, along with a very troubled-looking Lyndon B. Johnson, have made this poster a favourite among collectors.