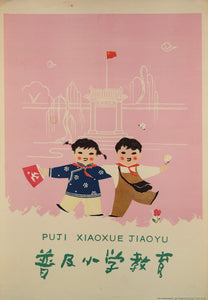 Make primary education universal
Regular price €467,95 Sale
Artist: Central Arts & Crafts Fine Art School Teachers & Students Collective
Year: 1958
Publisher: Tianjin Fine Art Publishing House
Size (mm): 532x767
Condition: Very good, creasing, small tears to margins, small stain to image, pinholes on top margin
When the communists took control of China in 1949 the country faced great difficulties in the education sector, with a literacy rate of around only 15 percent and less than a 40 percent enrolment rate among school-aged children. Education policies have undergone various shifts since the founding of the People's Republic, where vital importance has been placed on the role of education in the development of the new socialist society. Tensions existed in social policy between the designations of 'red' or 'expert' - 'red' meaning possessing the correct political orientation, and 'expert' having professional knowledge and skill. In the field of education this has been characterised by swings between the 'red' objectives of emphasis on primary and adult education with political training in schools, and the 'expert' aims of focusing on technical and higher education with an academic emphasis at lower levels. 
Chinese education policies in the early 1950s were generally influenced by the centralised Soviet model that emphasised quality of students over quantity, however from the late fifties this practice was adapted in an attempt to greatly expand enrolment. In 1950 curricular standards for primary schools were established by the Ministry of Education, along with the production of school textbooks and teaching materials. The concept of minbangongzhu, or 'managed by the people and subsidised by the state' was established to assist in the development of primary-level education, where the local community would set up and staff their own schools with the assistance and subsidy of the state. Achieving the aim of universal primary education in China required a focus largely on rural areas - where the majority of the population lived and historically the education system had been most lacking. With the goals of teaching basic literacy and numeracy, along with agricultural knowledge and political education, the minban schools expanded rapidly. Between 1952 and 1965 the overall primary school enrolment over doubled from 51 million to 116 million, representing 84 percent of school-aged children.
The sign on the archway in the background of the poster reads minban xiaoxue (primary school run by the people).