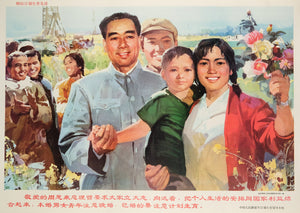 Premier Zhou together with model family planning couple
Regular price €141,95 Sale
Artist: unknown
Year: c.1975
Publisher: Chinese People's Liberation Army Family Planning Leadership Group
Size (mm): 535x762
Condition: Excellent
Text at top reads: zenggei jihua shengyu xianjin (presented to exemplary family planning couples)
Text at bottom reads: jingai de Zhou Enlai Zongli ceng yaoqiu dajia li dazhi, xiangyuan kan, ba geren shenghuo de anpai tong guojia liyi jiehe qilai; weihun nannv qingnian zhuyi wanhun, yihun de yao zhuyi jihua shengyu (beloved Premier Zhou Enlai requires everyone to establish high aspirations, to look to the future, to join together for the benefit of the nation and for individuals' arrangements for daily life; unmarried male and female youths should pay attention to marrying later, those already married should pay attention to family planning).
In the mid-1950s China stepped up its efforts to control the country's population by birth control, although policies shifted during this period in part due to the need for manpower of the Great Leap Forward campaign. Once population growth had stabilised after the effects of the disastrous famine, the Birth Planning Commission was established in 1964 along with a domestically produced contraceptive pill. From the early 1970s the propaganda network was mobilised in the campaign to promote birth control. The fourth Five-Year Plan included a goal of reducing the annual population growth rate from 2.5 percent to 1 percent in cities and 1.5 percent in the countryside between 1970 and 1975; the next plan aimed at further reductions to be achieved by 1980.
The wan, xi, shao policy (later, longer, fewer) was commenced in the early 1970s, encouraging couples to have children later, to wait longer between births, and to have fewer children. At ground level, birth planning enforcers were employed to keep detailed records on all women of child-bearing age - monitoring births, use of contraception and menstrual cycles - and used various coercive means to prevent unsanctioned births. Although these measures are usually associated with the one-child policy of the 1980s, their use predates this and such practices were reportedly widely employed in the preceding decade.