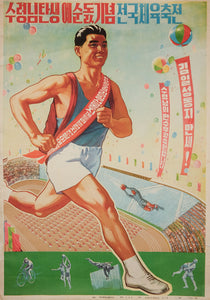 National competition commemorating the 60th anniversary of our Supreme Leader
Regular price €764,95 Sale
Artist: Oh Jung-ho
Year: 1972
Publisher: Korean Workers Party Press
Size: 533x769
Condition: excellent, creases to margins

Sport has been used by all communist countries to achieve various political purposes - to assist in the modernisation of society; to form more cohesive bonds between different ethnicities; to improve health and hygiene; to strengthen national defence and industrial production; and to gain recognition from the international community. Soon after the formation of the North Korean state Kim Il-sung identified the importance of the role that physical education could play in the building of the nation, announcing that everyday sport and exercise would improve the nation's health and help form a strong body and mind. In turn, this would create a generally stronger and better communist individual who would be better placed to assist in vital labour and military tasks. Countrywide physical education programs were launched, an annual test of physical strength was devised, and the second Sunday of October every year was designated as the Day of Physical Education and Sport.
Following the soviet model, North Korea launched a Five-Year Plan (1957-1961) to rebuild the country's economy after the destruction of the Korean War. A physically strong labour force would be required in the developing of heavy industry, leading to the introduction of sporting organisations and compulsory exercise programs by the state. In contrast to other communist countries, however, North Korea also used sport as a means of demonstrating the autonomy of the nation in keeping with the Juche doctrine of self-reliance. Large-scale athletic and gymnastic programs were developed that necessitated complete individual submission and unity with the masses to perform their carefully choreographed routines.
After the appearance of the German Democratic Republic at the 1956 Olympic Games, North Korea lobbied the International Olympic Committee for recognition and was awarded IOC membership in 1962. The North participated in the 1972 Munich Summer Olympics and won a total of five medals including one gold, as well as advancing as far as the quarter-finals of the 1966 World Cup. The spectacular mass gymnastics performances held by the country, which have now gained worldwide attention, were first introduced in the 1930s. In 2002, the Arirang Mass Games (see image) were commenced to commemorate the 90th anniversary of the late Kim Il-sung and the 70th anniversary of the Korean People's Army. The title is taken from a folk song that embodies the true spirit and emotions of the Korean people. Thousands of citizens, including many children, participate in the games and perform card stunts where coloured cards are raised in coordinated sequence to form complicated, sometimes animated, images. The games pay strong attention to the promotion of Korean nationalism, worship of Kim Il-sung and the party ideology.
This poster was produced to publicise a large athletic and sporting event in commemoration of the 60th birthday of Kim Il-sung. A mass choreographed routine can be seen taking place inside the stadium, with smaller depictions of football, cycling, basketball, military assault courses and wrestling.
The athlete's sash reads 'relay race dedicated to our Supreme Leader Kim Il-sung'
The vertical banners read 'wishing many happy returns to our Supreme Leader' and 'long live our Supreme Leader!'