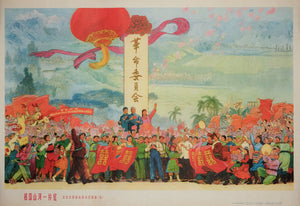 Our motherland is an expanse of red
Regular price €142,95 Sale
Artist: Cultural Revolution Poster Design Group
Year: 1976
Publisher: Shanghai People's Publishing House
Size (mm): 527x768
Condition: Excellent, some discolouration to lower margin
The centre banner reads: Geming Weiyuanhui (Revolutionary Committees)
Banner on left reads: relie huanhu quanguo (chu Taiwan sheng wai) ge sheng, shi, zizhiqu geming weiyuanhui quanbu chengli (warmly hailing the complete establishment throughout the whole country's provinces, cities and autonomous regions (except the province of Taiwan) of the Revolutionary Committees)
With the term originating in the Soviet Union, the Revolutionary Committees were established at the beginning of the Cultural Revolution to replace the existing political and organisational structures of the party. In January 1967 a rebel faction overthrew the state leadership in Shanghai, and installed themselves in power under the name of the Shanghai Commune. Shortly afterwards, Mao Zedong renamed the group the Shanghai Revolutionary Committee. He then declared that in places where it was necessary to seize power, new Revolutionary Committees should be formed under the principle of sanjiehe (three-in-one combination), composed of the three revolutionary groups of the cadres, masses, and military. In practice the 'masses' comprised mainly Red Guard groups and factions.
By September 1968 committees had been founded in all areas of the country with the obvious exception of Taiwan, leading to the proclamation quanguo shanhe yipian hong (the whole country is red). A famous stamp was designed on 24 November 1968 to commemorate the event but the artist left Taiwan unshaded with red, thus not a part of the united China. Hastily withdrawn from circulation with the official reasoning of geographical inaccuracies to islands and borders, the stamp's designer Wang Weisheng was terrified at the time of being jailed. The rarity of the item has led to it becoming one of the world's most valuable stamps, selling for hundreds of thousands of pounds a time.  
After the demise of Lin Biao in 1971, the support of the Revolutionary Committees by the People's Liberation Army - that had dominated their control - began to decline and the original party structure was gradually reintroduced. This poster was printed at the time of Mao's death in September 1976, when the process of phasing out the Revolutionary Committees was already underway. They would remain until their official abolition in 1978 but the poster is likely providing a suitable fanfare for the accomplishment of the revolutionary goal at the same time as signalling the changes to come.